Oi, povo feliz!
Hoje o SS será sobre um livro que parece ser ao mesmo tempo legal, estranho, e que te deixa pensando sobre tudo e todos, que é
The Giver
(O Doador - Sextante), da Lois Lowry! Lá vai!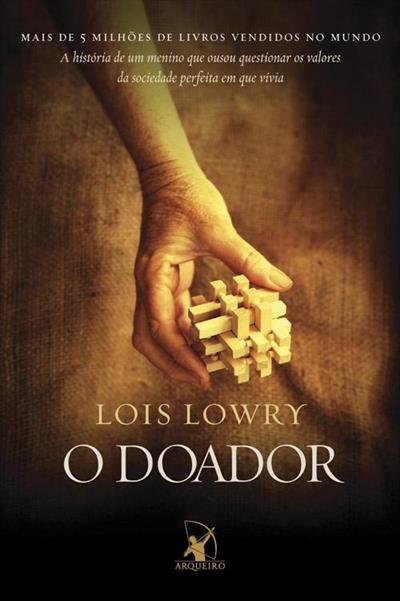 Sinopse Original
"
Jonas's world is perfect. Everything is under control. There is no war or fear or pain. There are no choices. Every person is assigned a role in the Community. When Jonas turns twelve, he is singled out to receive special training from The Giver. The Giver alone holds the memories of the true pain and pleasure of life. Now, it is time for Jonas to receive the truth. There is no turning back.

"
Sinopse Brasileira
"
Ganhadora de vários prêmios, Lois Lowry contrói um mundo aparentemente ideal onde não existe dor, desigualdade, guerra nem qualquer tipo de conflito. Por outro lado, também não existe amor, desejo ou alegria genuína.
Os habitantes da pequena comunidade, satisfeitos com suas vidas ordenadas, pacatas e estáveis, conhecem apenas o agora - o passado e todas as lembranças do antigo mundo foram apagados de suas mentes.
Uma única pessoa é encarregada de ser o guardião dessas memórias, com o objetivo de proteger o povo do sofrimento e, ao mesmo tempo, ter a sabedoria necessária para orientar os dirigentes da sociedade em momentos difíceis.
Aos 12 anos, idade em que toda criança é designada à profissão que irá seguir, Jonas recebe a honra de se tornar o próximo guardião. Ele é avisado de que precisará passar por um treinamento difícil, que exigirá coragem, disciplina e muita força, mas não faz idéia de que seu mundo nunca mais será o mesmo.
Orientado pelo velho Doador, Jonas descobre pouco a pouco o universo extraordinário que lhe fora roubado. Como uma névoa que vai se dissipando, a terrível realidade por trás daquela utopia começa a se revelar.
Premiado com a Medalha John Newbery por sua significativa contribuição à literatura juvenil, este livro tem a rara virtude de contar uma história cheia de suspense, envolver os leitores no drama de seu personagem central e provocar profundas reflexões em pessoas de todas as idades.

"
É isso, povo! Espero que tenham gostado!
Boa leitura!