Oi, povo feliz!
É o primeiro post semanal de 2011!!!! Haha Vou ser muito chato com as primeiras coisas de 2011, ok? Mas então, o post de hoje é sobre o livro Z, do Michael Thomas Ford. Já até postei a capa aqui, e botei na lista de Livros Pelos Quais Juan Mutila haha Ele fala de zumbis!!! (Eu gosto de zumbis [Ah, vá!]) Fala sério, zumbis são irados! Eles estão mortos... e ainda matam o povão! Haha Mas então... Lá vai!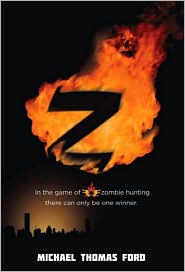 Sinopse
"The First Rule of Torching: Cleanse with fire.
Josh is by far the best zombie Torcher around—at least, he is in his virtual-reality zombie-hunting game. Josh has quickly risen through the player ranks, relying on the skill, cunning, and agility of a real Torcher.
The Second Rule of Torching: Save all humans.
But luckily for Josh, zombies exist only in the virtual world. The real zombie war is now more than fifteen years in the past, and the battle to defeat the deadly epidemic that devastated his family—and millions of others—is the stuff of history lessons.
The Third Rule of Torching: You can't bring them back.
Charlie is the top-ranked player in the game. Since all the players are shrouded in anonymity, Josh never expects Charlie to be a girl—and he never expects the offer she makes him: to join the underground gaming league that takes the virtual-reality game off the screen and into the streets. Josh is thrilled. But the more involved he gets, the more he realizes that not everything is what it seems.Real blood is spilling, members of the team are disappearing, and the zombies in the game are acting strange. And then there's the matter of a mysterious drug called Z. . . ."
A Primeira Regra de Queima: Purgar com fogo.
Josh é de longe o melhor Queimador de zumbis do pedaço - ao menos em seu jogo de realidade virtual para caçar zumbis. Josh subiu rapidamente pelo ranking de jogadores, confiando na habilidade, esperteza e habilidade de um verdadeiro Queimador.
A Segunda Regra de Queima: Salvar todos os humanos
Mas, para a sorte de Josh, zumbis existem apenas no mundo virtual. A verdadeira guerra com zumbis já foi há mais de quinze anos no passado, e a batalha para combater a epidemia mortal que devastou sua família - e outras milhões de pessoas - é o que ele aprende nas aulas de História.
A Terceira Regra de Queima: Não pode trazê-los de volta.
Charlie é a pessoa com maior ranking no jogo. Como todos os jogadores estão imersos em anonimato, Josh nunca espera que Charlie seja uma garota - e nunca espera que ela lhe faça a oferta que lhe fez: juntar-se à liga de jogadores subterrâneos, que levam o jogo para fora das telas, e até as ruas. Josh fica extasiado. Porém, quanto mais envolvido ele se encontra, mais ele percebe que nem tudo é o que parece ser. Sangue de verdade está sendo derramado, membros da equipe estão desaparecendo, e os zumbis do jogo estão agindo estranhamente. E também existe o problema de uma misteriosa droga chamada Z...
E aí, gostaram? Bem, é só isso, então, se não gostaram, não reclamem! Haha, brincadeira!