Oi, povo feliz!
Hoje eu vou falar de um livro do qual eu já falei ontem, no TT, e que, dizendo
mais uma
vez: Eu. Quero. Muuuuito!!!! Mas fazer o que, né?
O livro é Clockwork Angel, da Cassandra Clare, e é o primeiro livro da série The Infernal Devices, série
prequel
(= que aconteceu antes) de The Mortal Instruments. Eu tinha dito tudo isso ontem mas, se você perdeu, aqui está de novo! Bem, lá vai!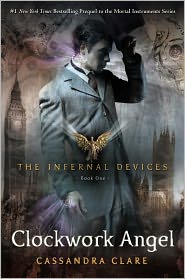 Sinopse Original
"
Magic is dangerous—but love is more dangerous still.
When sixteen-year-old Tessa Gray crosses the ocean to find her brother, her destination is England, the time is the reign of Queen Victoria, and something terrifying is waiting for her in London's Downworld, where vampires, warlocks and other supernatural folk stalk the gaslit streets. Only the Shadowhunters, warriors dedicated to ridding the world of demons, keep order amidst the chaos.
Kidnapped by the mysterious Dark Sisters, members of a secret organization called The Pandemonium Club, Tessa soon learns that she herself is a Downworlder with a rare ability: the power to transform, at will, into another person. What's more, the Magister, the shadowy figure who runs the Club, will stop at nothing to claim Tessa's power for his own.
Friendless and hunted, Tessa takes refuge with the Shadowhunters of the London Institute, who swear to find her brother if she will use her power to help them. She soon finds herself fascinated by—and torn between—two best friends: James, whose fragile beauty hides a deadly secret, and blue-eyed Will, whose caustic wit and volatile moods keep everyone in his life at arm's length . . . everyone, that is, but Tessa. As their search draws them deep into the heart of an arcane plot that threatens to destroy the Shadowhunters, Tessa realizes that she may need to choose between saving her brother and helping her new friends save the world. . . . and that love may be the most dangerous magic of all
.
"
(Tradução)
A Magia é poderosa, mas o amor é ainda mais poderoso.
Quando Tessa Gray, uma garota de dezesseis anos, cruza o oceano em busca de seu irmão, seu destino é a Inglaterra. Estamos nos tempos da Rainha Victoria, e algo aterrorizante espera Tessa no Submundo de Londres, onde vampiros, magos e outras criaturas sobrenaturais vigiam as ruas com iluminação a gás. Apenas os Caçadores de Sombras, guerreiros dedicados a livrar o mundo de demônios, mantêm a ordem no meio do caos.
Raptada pelas misteriosas Irmãs Sombrias, membros de uma organização chamada A Boate Pandemônio, Tessa logo aprende que ela mesma é uma Downworlder com uma rara habilidade: o poder de transformar-se, ao seu querer, em outra pessoa. E mais, o Magistrado, a figura sombria que comanda a Boate, não medirá forças para conseguir que o poder de Tessa seja seu.
Sem amigos, e sendo caçada, Tessa toma refúgio com os Caçadores de Sombras do Instituto de Londres, que juram que a ajudarão a encontrar seu irmão, se ela usar seu poder para ajudá-los. Ela logo se encontra fascinada por - e dividida entre - dois melhores amigos: James, cuja beleza frágil esconde um segredo mortal, e Will, o garoto de olhos azuis cuja sagacidade e humor volátil mantêm todos em sua vida à distância... Todos, isto é, menos Tessa. Quando sua busca os leva ao coração de uma trama misteriosa, que ameaça destruir os Caçadores de Sombras, Tessa percebe que pode precisar escolher entre salvar seu irmão e ajudar seus novos amigos a salvar o mundo... E que o amor pode ser a magia mais perigosa de todas.
Book Trailer
É isso, povo! Espero que tenham gostado!
Boa leitura!