Oi, povo feliz!
Hoje vou falar de um livro que já estou lendo há quase uma semana, eu sei, mas que com certeza acabo hoje/amanhã! Pelo menos isso, né?! Haha Esse livro é
Clockwork Angel
, da Cassandra Clare. Lá vai!
.What Am I Reading?
(O que leio?)
Clockwork Angel - Cassandra Clare
.What is the Dang Cover Like? (Como é a porcaria da capa?)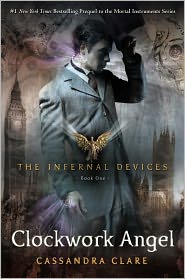 .What Page Am I on? (Em que página estou?)
. Any Chances of it Coming to Brazil? (Alguma chance de chegar no Brasil?)
Sim, provavelmente no início de 2012, pela Editora Galera Record, e sob o nome de (DEUS, ME AJUDE!!!!) A Mecânica dos Anjos*!
.What are my Thoughts so Far? (O que estou achando até agora?)
Cara, esse livro é muuuuito bom!! Sério! Claro que não bate The Mortal Instruments, meio impossível, vamos nos entender bem! Mas, sério, é muuito bom! Com certeza vou ler Clockwork Prince!
.Any Quick Remarks for the Characters? (Algum comentário rápido para os personagens?)
Tessa, você é uma criatura estranha, lide com isso! Will, não sei como a Tessa ainda consegue ter sentimentos por você! E Jem, você se salva porque você é irado! Haha
.What am I Reading Next? (O que lerei depois disso?)
Harry Potter and the Prisoner of Askaban (DESSA VEZ É VERDADE!!!!!!!! [mesmo!!!!!!])
*COMO?!?!?!?!? COMO CLOCKWORK ANGEL SE TORNA ISSO!?!?!? Eu sei que a Galera deve ter suas razões e tal mas mesmo assim AAAH!! ¬¬
Mas então... É isso, povo! Espero que tenham gostado!