Oi, povo feliz!
Hoje vou falar de um livro que ainda nem lançou, mas que lançará (nos Estados Unidos) no dia 3 de Maio desse ano, e é
Divergent
, da Veronica Roth, uma aventura/romance/ficção distópica que parecia ser muito bom! Lá vai!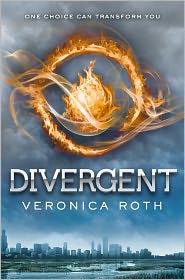 Sinopse
"
In Beatrice Prior's dystopian Chicago, society is divided into five factions, each dedicated to the cultivation of a particular virtue—Candor (the honest), Abnegation (the selfless), Dauntless (the brave), Amity (the peaceful), and Erudite (the intelligent). On an appointed day of every year, all sixteen-year-olds must select the faction to which they will devote the rest of their lives. For Beatrice, the decision is between staying with her family and being who she really is—she can't have both. So she makes a choice that surprises everyone, including herself.
During the highly competitive initiation that follows, Beatrice renames herself Tris and struggles to determine who her friends really are—and where, exactly, a romance with a sometimes fascinating, sometimes infuriating boy fits into the life she's chosen. But Tris also has a secret, one she's kept hidden from everyone because she's been warned it can mean death. And as she discovers a growing conflict that threatens to unravel her seemingly perfect society, she also learns that her secret might help her save those she loves . . . or it might destroy her."
(Tradução)
Na Chicago distópica de Beatrice Prior, a sociedade é dividida em cinco facções, cada uma dedicada ao cultivo de uma virtude em particular:
Candor
(Honestos),
Abnegation
(Altruístas),
Dauntless
(Corajosos),
Amity
(Pacíficos) e
Erudite
(Inteligentes) Em um certo dia de cada ano, todos os jovens de dezesseis anos devem selecionar a facção à qual se dedicarão pelo resto de suas vidas. Para Beatrice, a decisão está entre ficar com sua família ou ser ela mesma, e ela não pode ter ambos. Então, faz uma escolha que surpreende a todos, inclusive a ela mesma.
Durante a altamente competitiva iniciação que se segue, Beatrice muda seu nome para Tris, e luta para determinar quem são seus verdadeiros amigos, e onde exatamente um romance com um garota por vezes fascinante, por vezes enfurecedor se encaixa na vida que escolheu. Mas Tris também tem um segredo, que mantém escondido de todos porque fora sido avisada que poderia levar à morte. E à medida que descobre um conflito crescente que ameaça a sua sociedade aparentemente perfeita, também aprende que seu segredo pode ajudá-la a salvar aqueles a quem ama.... mas também pode destruí-la
É isso, povo! Espero que tenham gostado!
Boa leitura!