Oi, povo feliz!
Sim, eu só venho falar desse livro hoje! ¬¬ Eu sei que ele é MUITO velho, tanto aqui quanto lá fora, mas é que hoje eu aproveitei o tempo sem dever e vi o filme (Tomorrow, When the War Began [ainda não disponível no Brasil]), e eu gostei muito mesmo! Então, como disseram por aí que o filme é bem parecido com o livro, a consequência foi que eu fiquei querendo o livro! Haha Então, pra terminar, como vocês sabem que todos os livros que eu quero, eu posto, lá vai!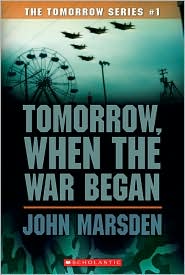 (Capas original e brasileira)
Sinopse Original
"When Ellie and her friends go camping, they have no idea they're leaving their old lives behind forever. Despite a less-than-tragic food shortage and a secret crush or two, everything goes as planned. But a week later, they return home to find their houses empty and their pets starving. Something has gone wrong--horribly wrong.
Before long, they realize the country has been invaded, and the entire town has been captured--including their families and all their friends. Ellie and the other survivors face an impossible decision: They can flee for the mountains or surrender. Or they can fight."
Sinopse Brasileira
"
O que você faria se descobrisse que todo o mundo que conhece deixasse de existir da noite para o dia?
Ao voltar de uma semana de acampamento, Ellie e seus amigos descobrem que a cidade em que viviam foi invadida por um inimigo desconhecido. Suas famílias foram aprisionadas e uma guerra está acontecendo em seu país. Agora, eles estão sozinhos em uma cidade sitiada, lutando para descobrir o que aconteceu com seu país e tentando sobreviver.
AMANHÃ é a história de uma aventura extraordinária em tempos extraordinários, em que esconderijos, explosões e fugas passam a fazer parte da rotina desse grupo de amigos. Sozinhos e sem ter para onde ir, Ellie e seus amigos vão precisar de toda a coragem e ousadia para sobreviver.
Amanhã, quando a guerra começou é o primeiro livro da série que foi escolhida como a mais fascinante pelos jovens leitores nos EUA, na Suécia e Austrália. Uma história que prende o leitor do início ao fim. Amanhã, quando a guerra começou vai ficar na sua memória para sempre."
Trailer do filme:
É isso, povo! Espero que tenham gostado!
Boa leitura!