Oi, povo feliz!
Aproveitando a divulgação
bem
recente da capa nacional de
Hunger
(
Fome
), eu vou fazer um Info sobre o livro, que parece ser bem legal! Lá vai!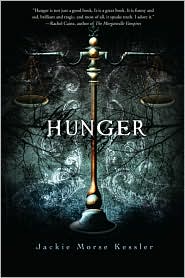 (Capas original e brasileira*)
*A brasileira é lançamento, e devia estar bem maior, eu sei, mas senão não ia caber no post! Então, o link para a imagem maior da capa brasileira está
aqui
, para quem quiser ver!)
Sinopse Original
"'Thou art the Black Rider. Go thee out unto the world.'

"
Lisabeth Lewis has a black steed, a set of scales, and a new job: she's been appointed Famine. How will an anorexic seventeen-year-old girl from the suburbs fare as one of the Four Horsemen of the Apocalypse?
Traveling the world on her steed gives Lisa freedom from her troubles at home—her constant battle with hunger, and her struggle to hide it from the people who care about her. But being Famine forces her to go places where hunger is a painful part of everyday life, and to face the horrifying effects of her phenomenal power. Can Lisa find a way to harness that power—and the courage to fight her own inner demons?
A wildly original approach to the issue of eating disorders, Hunger is about the struggle to find balance in a world of extremes, and uses fantastic tropes to explore a difficult topic that touches the lives of many teens."
Sinopse Brasileira
""Tu és o Cavaleiro Negro,
parte mundo afora."
Lisabeth Lewis
tem um corcel negro, balanças e um novo emprego: ela foi nomeada
Fome
. Como uma garota anoréxica de dezessete anos de classe média alta pode se tornar um dos
Quatro Cavaleiros do Apocalipse
?
Viajar pelo mundo em seu corcel liberta
Lisa
de seus problemas em casa: sua constante batalha contra a fome e a luta para escondê-las das pessoas que gostam dela. Mas ser a fome propriamente dita a força a ir a lugares onde a fome é uma parte dolorosa da vida cotidiana e a enfrentar os efeitos horríveis de seu incrível novo poder.
Conseguirá
Lisa
encontrar uma maneira de controlar esse poder… e a coragem de combater seus próprios demônios interiores?"
É isso, povo! Espero que tenham gostado!
Boa leitura!